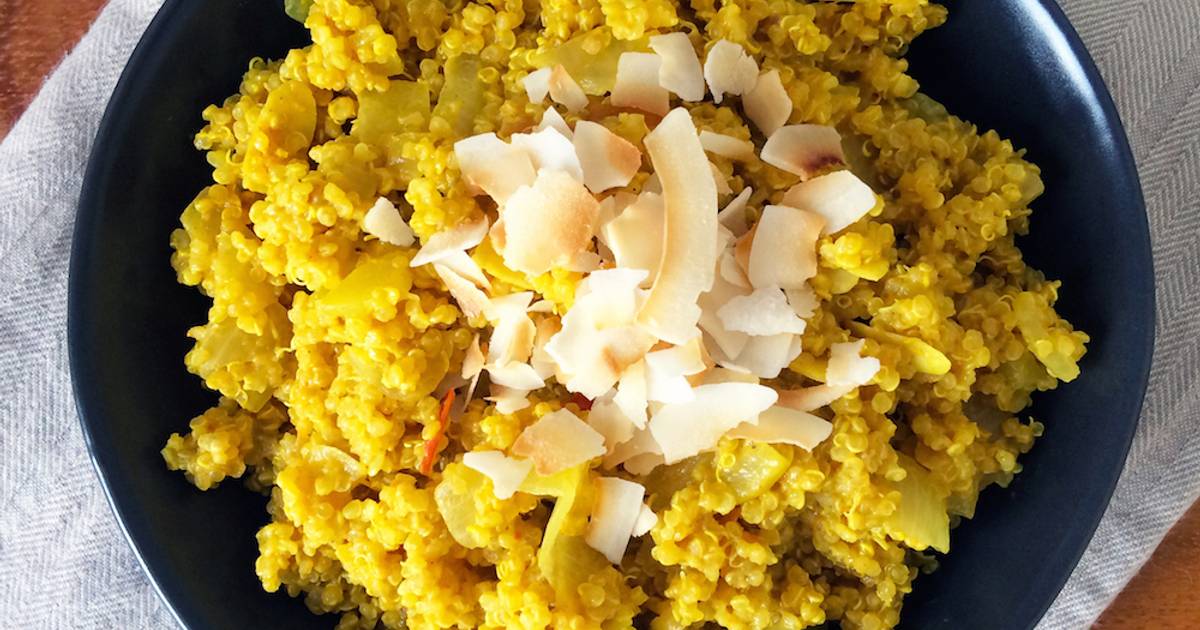 Coconut Curry Quinoa (Vegan + Gluten Free)
It's easy to learn how to make curry recipe vegan. curry recipe vegan is one of my favorite menu.
How to make curry recipe vegan easily?
In this recipe you will discover the simplest yet most flavourful way to make the curry recipe vegan! Whether you're cooking for a small family dinner or a daytime potluck, follow these easy steps for some excellent bites!
Ingredients :
1 cup quinoa
2 cups unsweetened coconut milk
1 tomato, diced
1/2 zucchini, peeled and diced
1/2 vidalia onion, peeled and diced
1/3 cup red curry simmer sauce
1/8 cup blanched sliced almonds
2 Tbsp coconut oil
1 Tbsp curry powder
1 Tbsp coconut flakes, to taste
Step :
Add 1 cup quinoa and 2 cups water to a medium pot and bring to a boil
Once the mixture has begun to boil, bring to a simmer for about 15 minutes until the quinoa has soaked up all of the liquid **The coconut milk will tend to foam and clump at the top if you do not continue to stir throughout–this is not a problem, and you can spoon off anything that clumps on top if you prefer**
In a separate pan, heat 2 tbsp coconut oil and add the diced tomato, zucchini, and onion
Continue to cook the vegetables on low-medium heat until they become soft
Add 1/3 cup red curry simmer sauce to the vegetables and cook for another 5-10 minutes
Once quinoa has finished cooking, add the vegetable/curry mixture to the pot and stir it in
Add the 1/8 cup of blanched almonds, and 1 tbsp of curry powder and stir until the curry has fully been absorbed **1 tbsp does not seem like a lot, but it will go far!**
Serve in bowls and add the coconut flakes to garnish!
That's curry recipe vegan, Special thanks to thisthatorganic for making this delicious recipe.