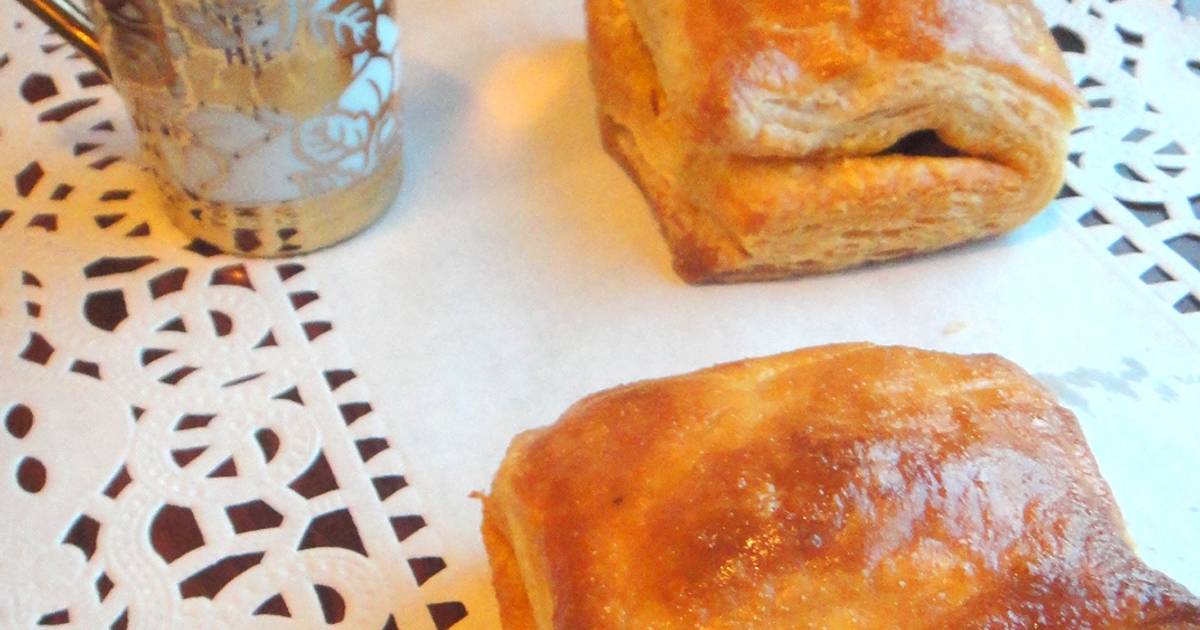 Chicken Puffs with Homemade Puff Pastry
It's easy to learn how to make homemade puff pastry. homemade puff pastry is one of my favorite menu.
How to make homemade puff pastry easily?
In this recipe you will discover the simplest yet most flavourful way to make the homemade puff pastry! Whether you're cooking for a small family dinner or a daytime potluck, follow these easy steps for some excellent bites!
Ingredients :
3 1/2 Cups All purpose flour
1/4 Cup Corn Flour
1/2 Tablespoon Salt
1 1/4 Cups water , cold
454 Grams butter , cold
1 Kilogram Chicken
2 Tablespoons Red chilli powder
1/2 Teaspoon Turmeric powder
5 Onions , sliced
2 Tomatoes , chopped
1 Tablespoon Garam masala
2 Tablespoons Ginger garlic paste
1 1/2 Cups Water
1/2 Cup Ghee
Curry leaves
Step :
Whisk the all purpose flour,corn flour and salt together.
Add all the water at once and mix till it forms a ball. You can use a food processor for these steps. The dough will be very moist and pliable and will hold together when squeezed between your fingers.
Remove the dough from the machine,form into a ball,and, with a small sharp knife, slash the top in a tic-tac-toe pattern.Wrap the dough in a damp towel and refrigerate for 5 minutes
Meanwhile place the butter between 2 sheets of plastic wrap and beat it with a rolling pin until it flattens into a square that's about 1" thick.Take care that the butter remains cool and firm; if it has softened or become oily, chill it before continuing.
Unwrap the dough and place it on a work surface dusted with all purpose flour.With the rolling pin,press on the dough to flatten it and then roll into a 10" square.Keep the top and bottom of the dough well floured to prevent sticking and lift the dough and move it around frequently.
Starting from the center of the square, roll out over each corner to create a thick center pad with "ears" or flaps. Place the cold butter in the middle of the dough and fold the ears over the butter, stretching them as needed so that they overlap slightly and encase the butter completely
The dough must be cold at all times. If your room is warm and you feel that the butter has softened,wrap the dough with a plastic wrap and chill it.
Flaten the dough with the roller pin into an elongated rectangle,then fold it 1/3. Turn it again roll into an elongated rectangle fold by 1/3 and chill for 30 minutes. Do the same for three times. So that you have rolled the dough 6 times and chilled it thrice.
For a video demo of rolling out the puff pastry you can watch Michel Richard in action: http://www.youtube.com/watch?v=Aqbqk5SFKhc&playnext=1&list=PL41F443EB03294C87&feature=results_video
Pre-heat the oven to 425F/220C and position the rack in the middle.
Dust your work surface with flour, lightly.Cut out a small portion of the puff pastry and roll it out into 1/4" thickness, evenly. Try to keep it in a rectangular or square shape to avoid wastage.
Divide them further into squares using a sharp knife.Keep the filling in the center,fold over and seal the edges using water. Place the filled pastry on a parchment/butter paper lined baking sheet.
Beat a whole egg and brush lightly on top of the filled pastry and bake for 25-30 mins or till the top is nice and golden. Let it cool slightly as it gets crunchy when it cools.
Put chicken pieces, powders,salt and ginger garlic paste,onions,tomatoes and 3-4 tbsp of oil/ghee into the cooker and give it a mix.
Cook on medium flame for 1 whistle.
Remove the pieces. Reserve the gravy.
Fry the pieces in oil/ghee till lightly browned.Keep aside.
To the reseved gravy,add water and saute till it's dark maroonish brown in colour. Add oil/ghee if necessary.
Add the fried chicken pieces and mix till well coated.
Garnish with curry leaves and serve hot with rice,chapathi,parata etc.
For Chicken puffs I used boneless chicken cut into small cubes.And it takes a lot of time for cooking. It depends on each.
That's homemade puff pastry, Special thanks to Lejna Ramachandran for making this delicious recipe.