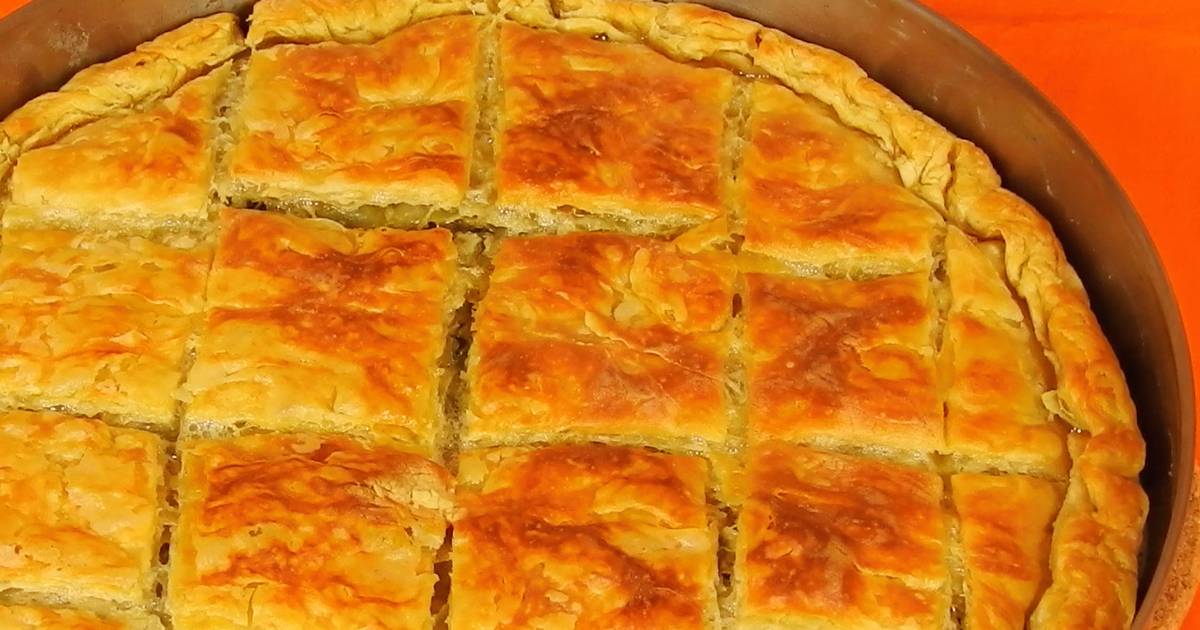 Spinach, Wild Greens & Feta Greek Pie (a.k.a. Spanakopita)
It's easy to learn how to make pie queen . pie queen is one of my favorite menu.
How to make pie queen easily?
In this recipe you will discover the simplest yet most flavourful way to make the pie queen ! Whether you're cooking for a small family dinner or a daytime potluck, follow these easy steps for some excellent bites!
Ingredients :
7 - 8 spring onions
300 g spinach (fresh or frozen)
300 g edible wild greens (dipped in boiling water for five minutes and strained well)
4-5 tbsp dill finelly chopped
1 tbsp mint dried
1/2 tsp salt
1/2 tsp pepper, freshly ground
250 g feta cheese
100 ml olive oil (app.)
1 dose Greek phyllo ver. 3 (click on the link above and learn how to prepare them)
Step :
With a sharp knife, cut the spring onions into thin slices.
In a pan, heat 50ml of olive oil and sauté the spring onions for a few minutes to soften.
Add the spinach and stir until it's completely thawed (if using frozen) or for about 5min if using fresh. All the liquids from the spinach should evaporate.
Remove the pan from the heat and add the dill, the mint, salt and pepper. Stir well.
Crumble the feta cheese and mix it with the greens. Set aside to cool completely.
Take the first stack of disks out of the fridge.
You'll need a round baking pan, 38cm/15 inches in diameter.
Flour your bench and roll out a round pastry sheet, 10cm/4 inches bigger than your pan.
Brush your pan with olive oil.
Wrap the sheet around the rolling pin and transfer it to the pan.
Unwrap carefully and arrange it with your hands, so that the sides of the pan are evenly covered.
Press the edges with your rolling pin and trim the excess dough. Cut it in smaller pieces and use them for a second layer.
Spread the filling all over the surface.
If you find that the filling is too wet, add two tbsps of semolina and mix well. This will suck all the excess moisture. Otherwise you'll end up with soft and soggy pastry sheets.
If you end up with leftover filling, put it in a container and keep it in the freezer up to 3 months.
Take the second stack of disks out of the fridge and roll out another round sheet, 38cm/15inches in diameter.
Transfer it and cover the filling.
Pinch the edges to seal and decorate the pie.
Brush with olive oil.
Take a knife and carefully cut the pie into pieces but not all the way to the bottom! This way, you're creating vents, to allow the steam to escape.
Bake in a preheated oven, at 200°C/400°F for 45min, low position, until it's golden brown.
Don't cover the pie until it's completely cooled, if you want the sheets to stay crunchy!
That's pie queen recipes, Special thanks to Aphrodite Vlavogelaki for making this delicious recipe.